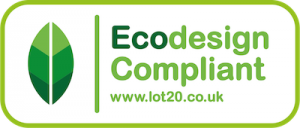 What is Lot20?
Lot20 is a new legislation that means from the 1st January 2018, all local space heaters manufactured for sale in the EU that use electricity, gas or liquid fuels must meet a minimum efficiency standard.
Why?
The aim of the legislation is to remove inefficient technologies and move us onto modern efficient products which make use of the latest technologies including smart technology which syncs to mobile devices. The new products will reduce the amount of energy that we use to heat our homes, helping to achieve the overall carbon reduction targets.
Does this affect me?
The Lot 20 regulation is a significant change in the electrical heating industry and will affect all members of the market, from manufacturers, to distributors such as LEW and to the installers and end-users.
Non-compliant products will no longer be manufactured from January 2018 but can still be sold after that date until they are cleared through the market.
Once these non-compliant products are sold and no longer available LEW like all other distributors will have to offer the new efficient and compliant products. It is important for both us and our customers to understand the new regulations, the new products and the new technologies which come with them. If you you need assistance with product selection, our friendly staff will be happy to help you.
What products are affected?
Storage heaters, Direct acting heaters, Portable heaters, Radiant heaters, Electric fires, Underfloor heating, Infra-red heaters
What products are not affected?
Local space heaters using a vapour compression cycle (heat pumps), Local space heaters that are specified for outdoor use only, Sauna stoves, Slave heaters, Tubular heaters, Towel rails, Frost protection heaters
How will I know if a product is Lot20 compliant?
Compliant products will be labelled with the required information that has been included in the new regulations. Look out for these labels on the products in 2018.
For space heaters, the following information is required:
Heat output
Auxiliary electricity consumption
Temperature control type  – F2 compliance type
Additional features – F3 compliance type(s)
For more information visit the Lot20 website at lot20.co.uk