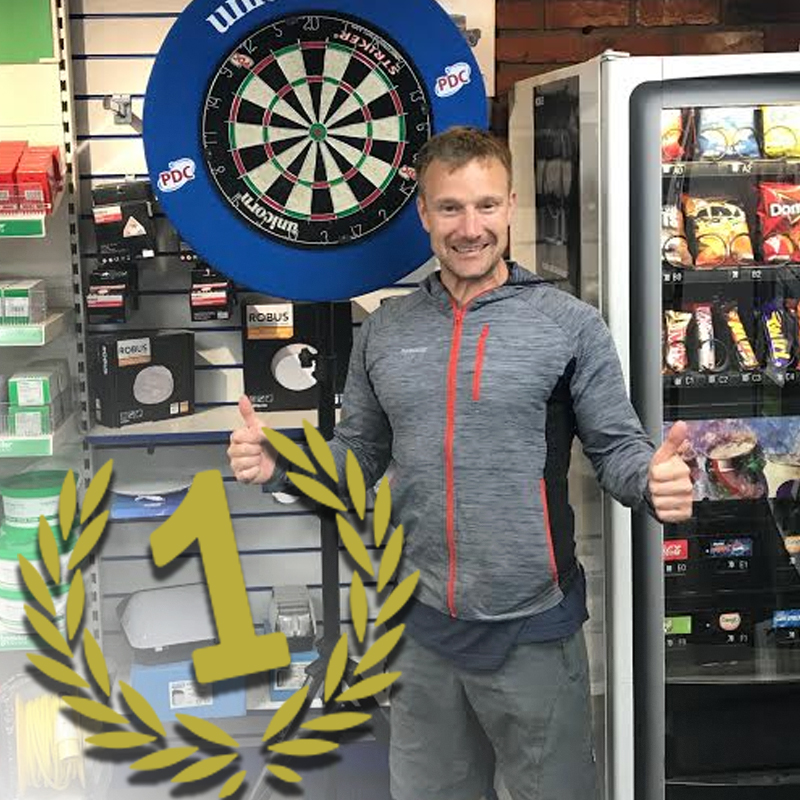 The Darts Roadshow, a single competition where over 200 people took part, with 2000+ darts thrown.
Throughout May the promotion visited all 11 LEW branches… and there could only one winner! A big congratulations to Elliott Batty from R&E Electrical Ltd who scored a massive 250, winning him the 4 tickets to the Betvictor Semi-Finals on the 28th July!
Thanks to everyone who took part in the darts roadshow and made it such a hit.
Fancy a laugh?
Have a look at the LEW staff leaderboard below! See if you can spot anyone you know and be sure to mention the quality of their efforts next time your in branch!
| Name | Score | Name | Score |
| --- | --- | --- | --- |
| Simon Hildred | 173 | James Hancock | 164 |
| Josh Denial | 137 | Dean Wilsher | 100 |
| Max Akers | 90 | Lee Jenkinson | 74 |
| Ali Salmon | 48 | Ash Paulson | 53 |
| Josh Johnson | 90 | Callum Wilson | 149 |
| Tom James | 88 | Jack Hague | 70 |
| Rob Parish | 111 | Steve Smith | 147 |
| Joe Rhodes | 130 | Chris Johnson | 109 |
| Paul Toomey | 97 | Kay Chadwick | 63 |
| Robbie Scott | 103 | Karl Davidson | 82 |
| Ben Jones | 133 | Aiden Taylor | 65 |
| Mark Richardson | 107 | Paul Bayne | 109 |
| Al Thomson | 167 | Robi Askey | 104 |
| Ben Askey | 65 | John Potter | 139 |
| Simon Mort | 174 | Russell Barrett | 109 |
| Mark Tomassi | 99 | Sean Rispin | 237 |
| Stuart Goodhall | 147 | Jack Gallaway | 128 |
| Molly Colton | 62 | Steve Jackson | 180 |
| Trevor Cherry | 180 | Simon Robinson | 103 |
| Stuart Dukes | 115 | Rhymanni Johnson | 98 |
| Danielle D'andilly | 127 | Jamie Ring | 67 |
| Amy Sawyer | 140 | Laura Williams | 148 |
| Harry Hickson | 170 | Bruno Hickson | 160 |
| Marc | 270 | Ken Cowan | 120 |
| Jimmy Carr | 60 | James Cook | 80 |
| Marc | 270 | Ollie Graham | 87 |
| Stephen Woods | 0 | Kim Grant | 119 |
| Alex Hooper | 68 | Joy Parrott | 109 |
| Sian Oxton | 85 | Danny Wilson | 169 |