'Open Circuit' is a brand new online group designed to help female electricians network with each other. The organisation has been spear headed by the established charity Women on the Tools with the backing of key industry organisations such as the Electrical Contractors Association (ECA) and  the Joint Industry Board (JIB).
In the UK women make up only 2% of tradespeople and just 0.1% of electrical contractors. Speaking to LEW, Hannah Carty, Women on the Tool's Social Value Officer, puts the gender disparity in trade jobs down to an 'absence of interest in school a lack of helpful careers advice' for young women. Other contributing issues Hannah says the Open Circuit is hoping to tackle include a 'lack of encouraging role models, a lack of apprenticeship opportunities for older women, unfriendly working arrangements, discouragement from family and friends', and the 'lack of self confidence caused by being the only woman' in a company.
When asked what the Open Circuit is hoping to achieve, Hannah said that the 'isolation' felt by some female electrical contractors was the top issue on the list. 'Because women are in such a small minority it makes it more important for them to be able to meet other women working in their field and access peer support.' She continues, 'Open Circuit is a place where women at different stages in their career can share their experiences, advice and opportunities. We hope that this will reduce their feelings of isolation and show women electricians that they are not the only one.'
LEW are pleased to support Women on the Tools and help promote more women to join the industry. LEW Bury customer and electrical apprentice, Zea Mawdsley, (pictured right & below) won LEW's Love your Apprentice competition earlier this year in February. The competition was sponsored by C.K Tools and judged by JCC Lighting, Ansell Lighting and Illumino Ignis. Zea sent in this fantastic picture of her fitting a swimming pool LED light for her company Elton Contractors Ltd.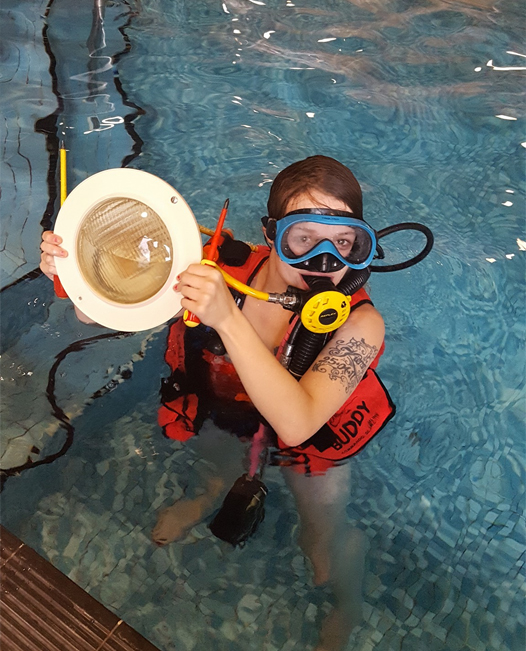 Zea Mawdsley – Elton Contractors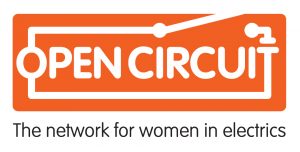 Open Circuit Facebook Group is open to any female electrician in the United Kingdom who wants to connect with other female electricians and share ideas, advice and discuss business. The Open Circuit Facebook group is managed by Women on the Tools and already has over 40 members.