It is estimated that SMEs face £50 billion in unpaid invoices, something that is costing the UK's economy around £10 billion in lost revenue. The pandemic showed how crucial the Construction sector is to the UK economy. 
Whether you're a Tradesperson or a Customer, we all have tales of woe when it comes to a customer that just won't pay up or work being done on our home where it goes wrong.  
Garry Lewis is a tradesperson on a mission to change the way the UK's Home Improvement Market currently operates. He wants to highlight both rogue traders and rogue customers, to warn others and make it difficult for them to operate, and in turn, highlight the genuine consumers and tradespeople, helping them to stand out and be recognised.
Garry has developed a platform called Recommend & Share, which is free for everyone to use. It is not the traditional introductory platform but is designed to uphold the agreement between tradesperson and customer until the work is completed and paid for. 
Garry Lewis took some time to sit down with us, and run through some questions about how Recommend and Share works, and how everyone can come out of a job with what they want to achieve.
Tell us about yourself 
 GL: I'm a tradesperson with over 30 years experience in the industry as a roofing contractor. Over the years, I built up a reputable business consisting of six roofing gangs.
 Over the 30 years, I have written off so much money in bad debts, with consumers and sub contractors who did not pay for work completed, and sadly had no intentions of paying.
 Why are you on this journey? 
 GL: Due to the interaction with a rogue contractor, I lost everything I'd worked for, which had a devastating impact on my family and my health. As a result, I decided to use my pension to build a platform that would help to make it difficult for both rogue customers and cowboy traders to operate, and save other people from going through what we've been through. 
I'm on a mission to turn the UK's Home Improvement Market from a negative environment into a positive one, by creating a NEW, better, and safer environment, where everybody has an equal relationship.
 What are the issues for the overall industry?
 GL: Our industry really is in a mess, and as a result, everybody will suffer. Here's some industry statistics-
 

        The construction industry has the highest rate of suicides than any other profession

 

        The UK faces a growing skilled tradespeople crisis as they are choosing other professions.
  What are the issues for tradespeople?
 GL: There are a number of issues for the tradespeople, one is that the current process just doesn't work. Tradespeople are expected to make a commitment to the customer by buying the materials and doing the work, all in the hope that they get paid. The customer doesn't have to make any kind of commitment to the tradesperson, they don't even know if the customer has the money to pay for the work, and if and when it goes wrong, they have nowhere to go to make the customer accountable for their actions.
The other problem is that tradespeople lack much needed support. They need to be provided with business tools to help achieve their full potential, increasing their chances of success.
What are the issues for consumers?
 GL: One of the issues for consumers is that they don't know who they can trust when looking to engage with a tradesperson. Rogue traders cost the UK homeowner in excess of £2 billion last year in botched jobs, and when anything goes wrong they have nowhere to go to make the tradesperson accountable for their actions.
 What is the solution?
 GL: The industry needs to be self regulated, NOT by a governing body, but by the people. That's where the power is to make Rogue Customers and Cowboy Traders a thing of the past. 
 What is Recommend & Share?
 GL: Recommend & Share is a NOT for profit platform that is FREE for both consumers and tradespeople to use. This platform allows both consumers and tradespeople to have an equal relationship to help ensure a positive outcome for both parties.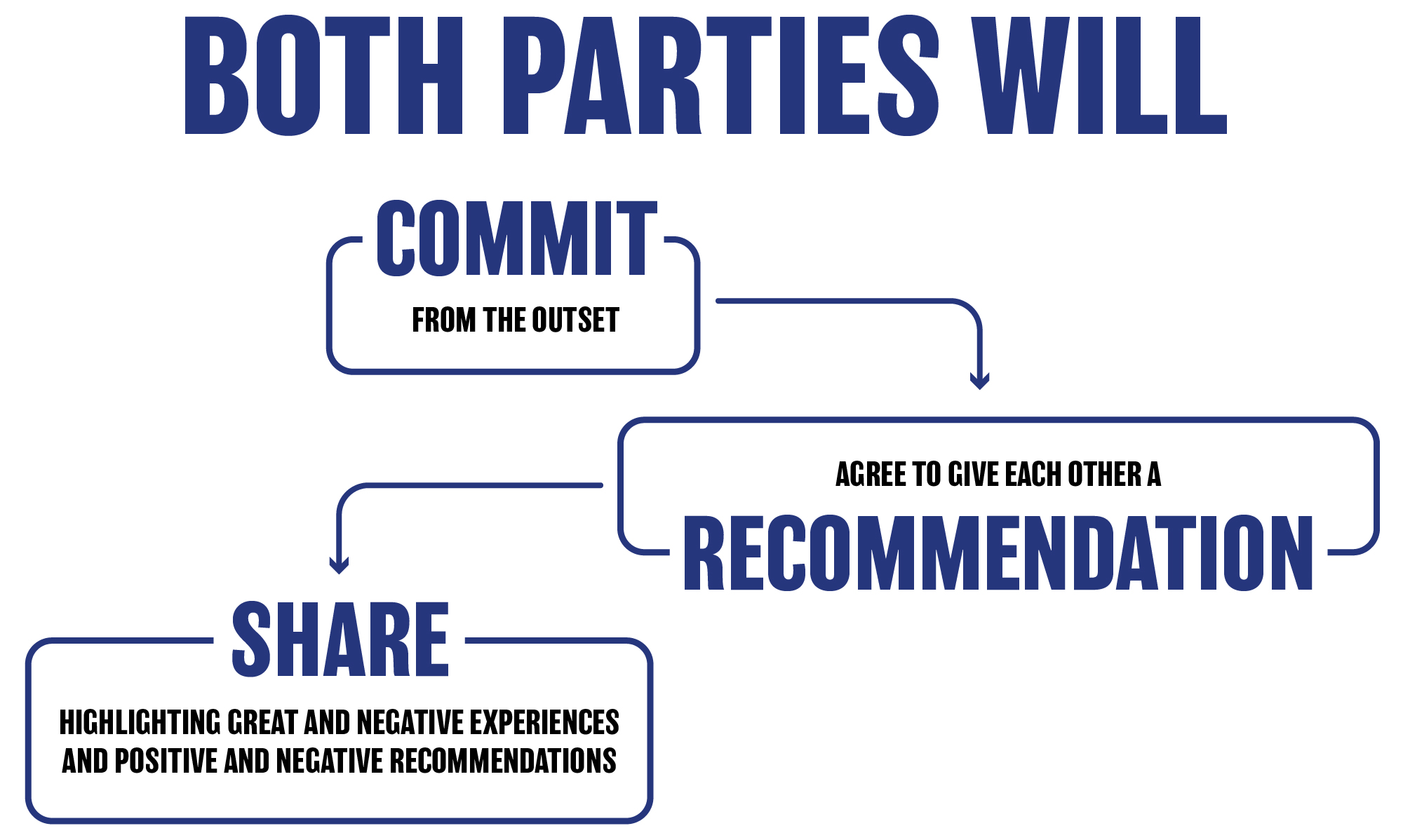 Why is Recommend & Share different from other platforms and solutions out there?
 GL: Recommend & Share is NOT another introductory platform. Using Recommend and Share forms part of the process between both parties, allowing them to have an equal relationship and rights.
 Both parties are able to CHECK each other's history before making a commitment, making it DIFFICULT for both rogue traders & rogue customers to operate. Using this platform will encourage a change in people's behavior and allow both parties to think twice about their actions and do the right thing.  
A negative recommendation can be changed into a positive recommendation, but only by the person who has issued it.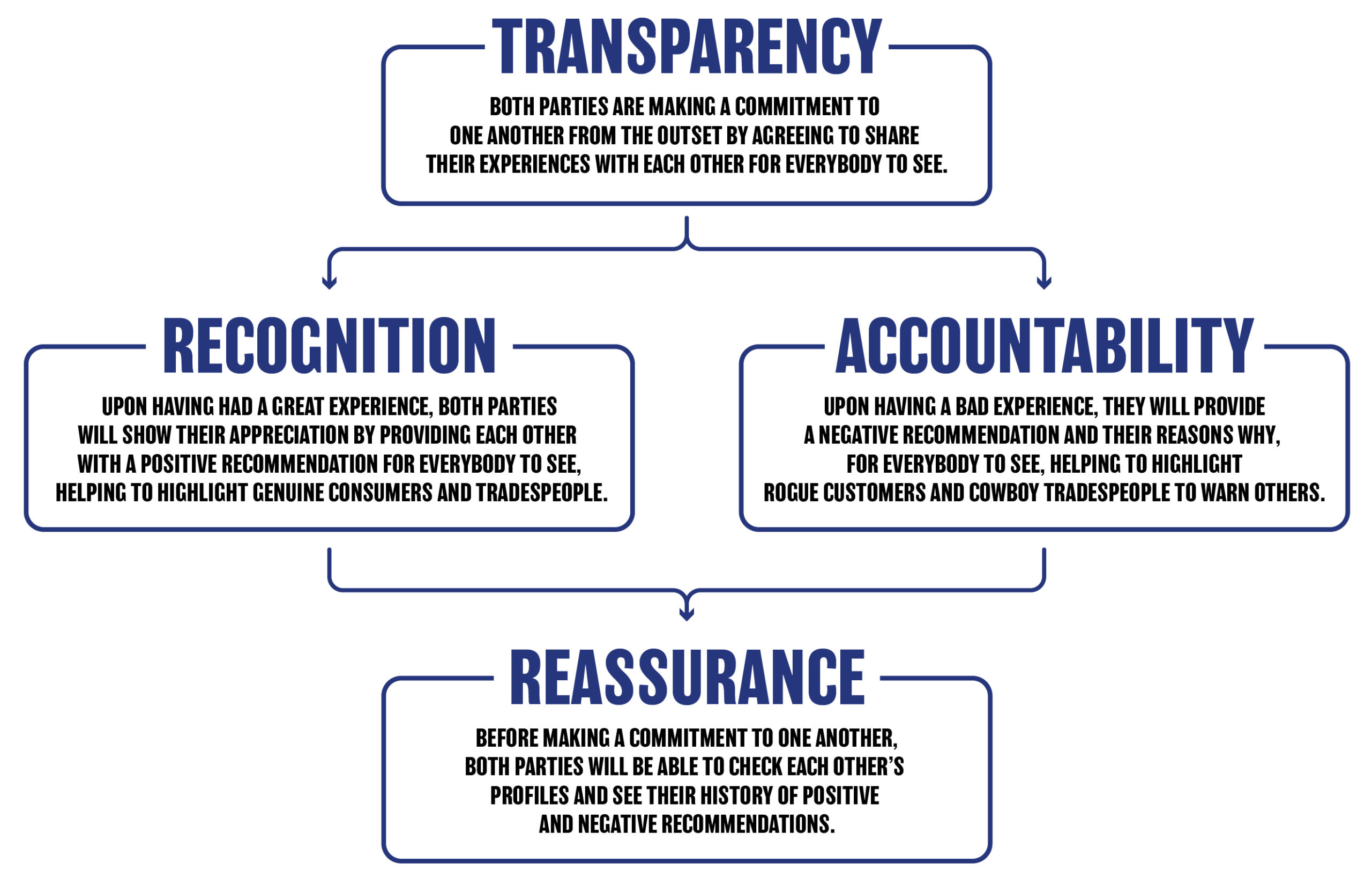 What is your goal for Recommend & Share?
 GL: To become a household brand that allows consumers and businesses to have peace of mind and reassurance when engaging with each other before making a commitment. 
 How does recommend & share generate its revenue?
 GL: Recommend & Share will generate its revenue through third party affiliate schemes, which will provide other services and products and will be of benefit to our community members.
 Recommend & Share is not answerable to shareholders and does not pay dividends to directors.
Keep an eye on our news page for updates on how Recommend and Share progresses including a video with LEW Managing Director Andy Johnson. 
Please note: Recommend & Share is fully GDPR compliant and does not share any of the consumer's data with any third party.