Flexicon is the first UK manufacturer of flexible conduit systems to receive the new Network Rail enhanced PADS approval. This is to show that the flexible conduits, glands and accessories used in signalling and infrastructure applications are fit for purpose. The revised Network Rail requirement now includes cable protection for applications prone to flooding or prolonged immersion under water.

Tim Creedon, Sales & Marketing Director for Flexicon –
"Cable protection for infrastructure and signalling is a vital safety requirement for Network Rail. Flexible Conduit is an effective and proven method of protecting vulnerable cables in both indoor and outdoor applications from a variety of hazards."
"Network Rail has recently enhanced their PADS requirements to include a provision for areas prone to flooding or prolonged immersion under water. Crucially, if an area is prone to flooding and/or there is a risk of cabling being immersed then currently only Flexicon can provide a PADS approved system suitable for Network Rail signalling and infrastructure installations."
"Of course flooding is just one potential hazard that cabling may face in infrastructure applications and Flexicon's range can offer protection against other hazards such as temperature variations, UV light, attack from rodents, vibration and impact to name but a few. We have a number of different PADS approved conduit systems available, enabling specifiers to effectively protect safety critical cabling from different hazards over its lifetime."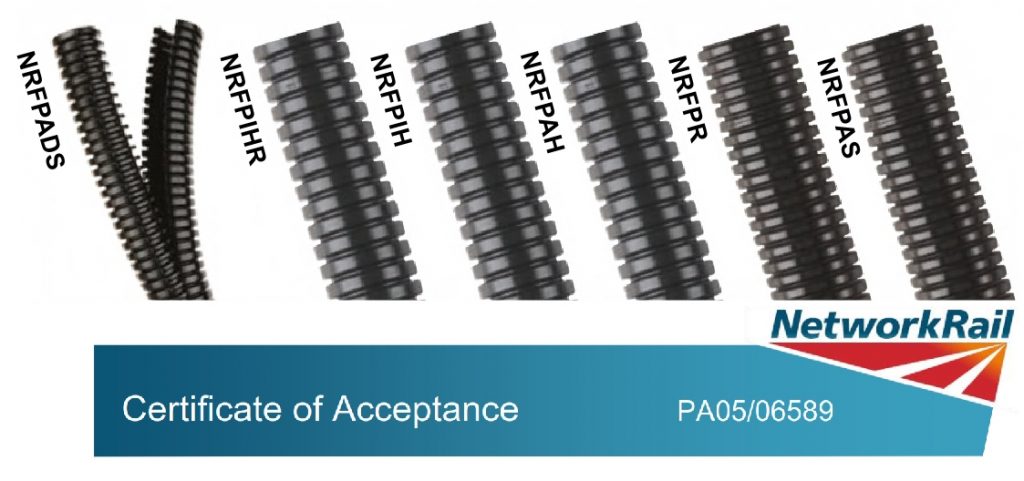 Network Rail's product acceptance process offers assurances that products are safe, compatible, reliable, fit for purpose and do not export unacceptable risk to Network Rail Infrastructure.
Six flexible conduit types have been selected by Network Rail to provide Cable Protection for various applications ranging from within equipment boxes to outdoor prolonged standing water environments. Together with the latest truly one piece mating gland, Flexicon Ultra™, these systems provide the most reliable and quickest installation time and enhanced IP68 performance. Details of all qualifying products can be viewed in Certificate of Acceptance PA05/06589.
"Network Rail recognised the need to update its PADS approval for infrastructure and signalling cable protection, adapting it to cope with the enhanced hazards likely to be faced by a flexible conduit system. Existing solutions did not offer sufficient protection against potential flooding and/or prolonged immersion underwater."
Flexicon claims that its new Ultra™ fitting is the world's best for rail, electrical and data installations that demand continuity of supply for safety and performance critical applications.
Its integrated sealing technology delivers an IP rating of 66, 67, 68 and 69, while its all round teeth provide 360° strength to give the strongest tensile strength available of up to 70Kg (for 21mm size conduit). The new fitting also has the highest levels of anti-vibration and shock protection performance testing to EN 61373 Cat 2.
Unusually for such a high performance fitting, Flexicon Ultra™ has a one-piece construction, so there is no risk of missing components on site which could result in the potential for an inferior/incorrect assembly. It is easily installed using a simple push and twist connection to the conduit, and is compatible with both fine and coarse pitch conduits without any loss of sealing performance.
PADS approved
Flexible conduit from Flexicon is available in diameters 21mm to 106mm for indoor and outdoor applications, and from 21 to 67mm for applications in areas prone to flooding. Network Rail has also approved a range of accessories including fixing clips, heavy-duty conduit clamps, rubber end clamps and non-metallic conduit cutters.
"Our products are already the preferred choice of equipment manufacturers and suppliers to Network Rail, London Underground and Crossrail. Flexicon has the widest range of Cable Protection Systems approved for London Underground and Crossrail, and are an IRIS approved manufacturer."
"This additional Product Acceptance demonstrates our commitment to providing suitable cable protection solution products for use in the Rail market. As a UK manufacturer we are well positioned to service requirements nationwide working closely with a variety of distributors and specialists to ensure stock availability of our approved flexible conduit solutions."