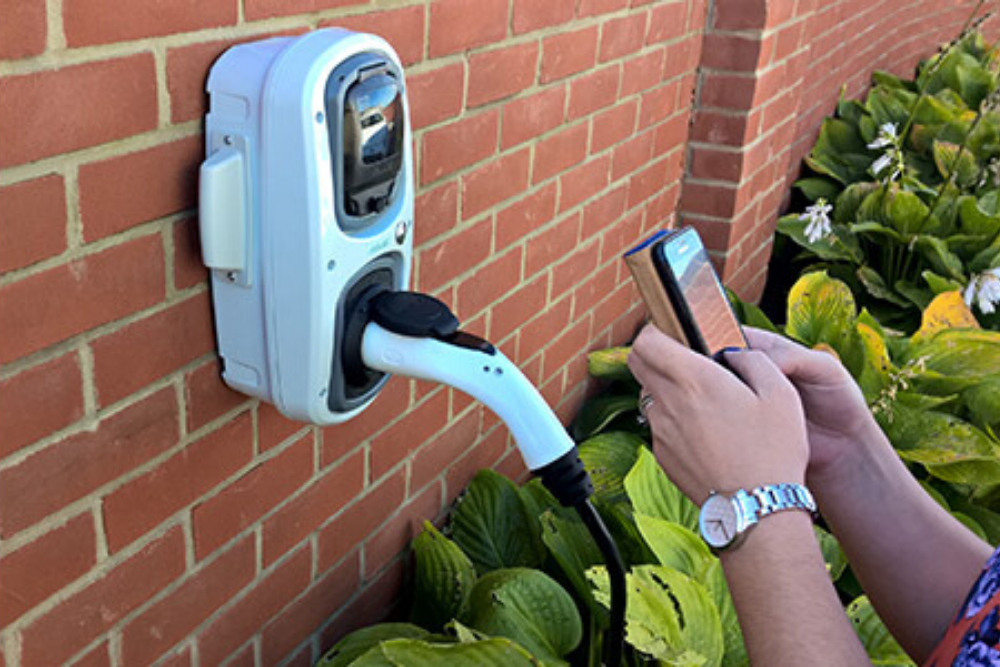 What is smart charging for electric vehicles?
Smart charging points for electric vehicles are devices used by EV's with built in smart functionality that can self-regulate how it delivers electricity to the vehicle. Much of the smart functionality related to smart chargepoints can happen automatically within the device, but 'chargepoint operators' can also take responsibility for remotely operating smart chargepoints.
A smart charge point, or a charge point operator, can send and receive 'load signals'. The load signals may be triggered automatically from a number of sources. Triggers could be price signals from energy suppliers or carbon grid intensities.
Price signals will change when the EV charges to the cheapest time of day in line with system and network capacity pressures, and carbon grid signals will set charging times when the grid is operating with maximum renewables therefore minimising the carbon impact of the vehicle.
Smart chargers are now the charge point of choice by the UK government with grants available to incentivise and finance installations for homeowners and business. Beginning with a brief overview of the OLEV grant, we've covered 10 benefits to smart charging for electric vehicles.
You'll be eligible to receive OLEV grant funding for your smart charge point
In July 2019 the Office for Low Emission Vehicles (OLEV) changed the requirements for their Electric Vehicle Homecharge scheme so that applicants are only eligible for grants if the charge point they have installed for their electric vehicle is equipped with smart technology (see Section 1.15 – EVHS Guidance for Installers).
OLEV grants are available in England to homeowners and businesses who install EV charge points. They can cover up to 75% of the capital expenditure of installing a charge point, which is up to £500 for homeowners and up to £10,000 for business. Together with the requirement for smart technology, applicants are only eligible if they meet specific criteria set by OLEV. We've covered the requirements for both OLEV schemes and the OLEV Approved Installer Application Process for electrical professionals.
Optimised charging for cheaper energy rates
More electric vehicles will mean more charging points, resulting in greater demand for energy. Using a smart charge point for charging your electric vehicle will help reduce peak-time demand for energy and will support the infrastructure of a property to allow it to cope with the extra demand from charging an electric vehicle.
Smart chargers can automatically schedule charging for off-peak times when energy tariffs are cheaper. They can respond to external signals from charge point operators that signify when energy rates are reduced. This will help save money for the homeowners and take pressure off the national grid during peak-hours.
The current electricity system is designed to meet peak demand between the hours of 5:00pm and 20:30pm. This is when the majority of people return from work, watch television, cook their dinner, or have a shower. Smart EV chargers can help ensure the supply and demand of electricity is more evenly balanced, as they are designed to shift consumption away from these times.
Makes use of cleaner, greener energy to help reduce your environmental footprint
Not only will smart charge points help regulate energy consumption to save money, but they're good news for the environment too. Optimising performance for off-peak charging helps lessen the impact of energy needs on the National Grid, saving homeowners a penny or two whilst helping reduce environmental footprints.
Smart charge points can maximise low-carbon emitting renewable electricity from sustainable sources. Charging can be automatically scheduled for when renewable energy is in abundant supply, helping reduce waste during off-peak times when cleaner energy sources or more readily available, but can be underused and wasted.
Automated data-reports on charging and performance
The key characteristics of a smart charger is its ability to connect to the internet and to be remotely accessed and from an external operator. Where non-smart EV chargers can only act as a source for a vehicle to draw power from, a smart charger can send real-time diagnostic reports to the user, monitor its own performance, and can automatically adjust itself in response to signals and variables of the energy network.
Diagnostic reports can include information on the charging status of the vehicle, historical data on energy usage and trends, and optimisation support to help the user get the most out of their charge point. Smart EV chargers will also diagnose faults and signpost any issue the charge point owner should be aware of.
Under the Homecharge and Workplace schemes, smart EV chargers should be able to 'monitor, record and transmit energy consumption' data so the charge point can be regulated to help save energy and money. Only charge points which meet these set criteria from OLEV with be eligible for electric vehicle charge point grants.
Control the charge point with a smartphone app
The majority of smart charge points will be compatible with a smartphone app through which the owner can access these reports on their charge points and receive notifications of any software updates. Rolec EV, the UK's leading manufacturer for the EV charging sector, have released their HomeSmart EV charge point in 2019. This model is OLEV eligible and supported by a customer built app – ev.energy.
HomeSmart EV optimises charging by integrating with the user's own energy tariffs to automatically respond to off-peak times. The app reports on the charging status of the vehicle, including kWh usage, money spent, and money save from smart charging. It also reports on the carbon footprint of the charge point and records charging history. Users can even export this data if they need to use it for business or personal records.
Smart charge points can remotely connect with their operator to receive 'Over the Air' updates. This means that if the charge point manufacturer or operator make changes to the charge point software, these updates will be automatically received and won't need any manual input from the owner.
Easily find smart charging stations connected to the network
Smart charge points can connect to an area network of charge points so drivers can see if the charge point is in use or free to use. This is helpful to drivers for planning their journey or for anyone looking for a suitable charge point whilst driving their vehicle on the road.
Balance electricity demand in peak times for businesses