BS7671:2018 was released on the 2nd of July 2018 and came into effect on the 1st of January 2019. There are many significant changes made to regulations that apply to the design, erection and verification of electrical installations in domestic, commercial and residential structures. Section 708 applies to the electrical installations in caravan parks, as well as similar locations that provide connection points for leisure vehicles and tents.
All applicable businesses need to be aware of these changes. Under new regulations, caravan pitch socket-outlets are required to comply with BS EN 60309-2 and must be fitted with an interlocked-mechanism to prevent the socket being live when accessible. They must be at least IP44 rated with a current rating no less than 16 A.
The Gewiss Combibloc Compact Interlocked Switched Socket is an industrial socket-outlet fitted with an interlocked mechanism for energy distribution in commercial and industrial applications that complies with sector 708 of BS 7671:2018. While electrical contractors can install new mechanical interlocked sockets, most of these models are larger than standard sockets which means that the distribution board may not be able to house them and will therefore need replacing.
The Gewiss Combibloc provides a simple solution to new regulatory changes with a compact design that can be easily fitted into existing installations. It has a smaller footprint than standard interlocked sockets and has the same width as the existing panel mount socket. For further advice on 18th Edition regulations for caravan parks and camping sites, download the Wylex guide on RCD Selection in our 18th Edition Hub.
COMBIBLOC Compact Socket-Outlets
The Gewiss COMBIBLOC range establishes new smaller dimensions for interlocked switched socket-outlets with 16-32A versions in a single size. They can be fixed to a flush mounted 3-gang box from Gewiss' domestic ranges.
The vertically-operated lever is easy to use and can be fitted with a safety lock. The tilted socket-outlet makes it easy to insert the plug and keeps the power cable at the correct angle for safety.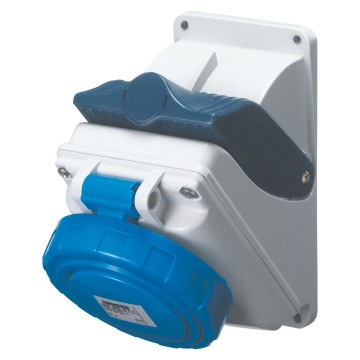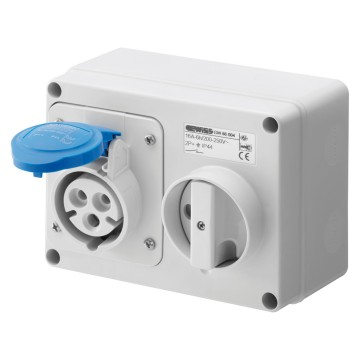 44 IB – Horizontal Socket-Outlets
Versions from 110V to 500V, from 16-32A are ideal for use in light industry and tertiary sector applications. Their shape and compact dimensions mean that a large number of socket-outlets can be installed in a small place.