18th EDITION HUB
The 18th Edition Wiring Regulations was released on the 2nd of July and is set to be officially implemented on the 1st of January 2019. All installations designed after the 31st of December 2018 must comply with 18th Edition Regulations that apply to the design, installation and verification of electrical installations, as well as to the additions and alterations made to existing ones. We have worked with leading suppliers of electrical equipment to compile a summary of the main changes made in the 18th Edition. Some topics covered include arc fault protection, surge protection, cable management and fire safety.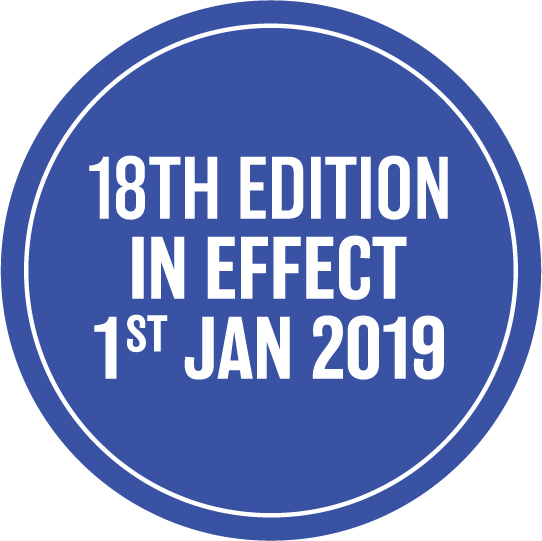 MANUFACTURER TIPS
The 18th Edition refers to the latest edition of the wiring regulations, as such it is more focussed around the specifics of wiring of electrical systems and there is very little reference to smoke/heat/CO alarms. Essentially there are no changes that affect us. Our main reference in terms of content and advice continues to be the British Standard BS 5839-6.
Important new regulations in the 18th Edition of BS7671 require all cables to be supported so that they are prevented from premature collapse in the event of fire. So SWA has launched 'Firefly' – a new range of fire safety fixing clips & cleats for cable, which can also be used as an internal & external mini trunking cable support.

We were delighted that Firefly won the prestigious 'Best New Industrial Product' award in 2017.
According to the draft of the 18th Edition that was published for public consultation, all existing Kewtech installation testers will be compatible with the new regulations.

However, if you are purchasing new equipment now, you may want to factor in the potential new requirement of increased earth resistance testing. In this case our KT65DL is the multifunction tester to have, as not only can it carry out earth resisitance tests, but it also has a PAT testing download function and with the recent news of 60 fires a week caused by faulty appliances, we may see more mandatory PAT testing become a requirement.